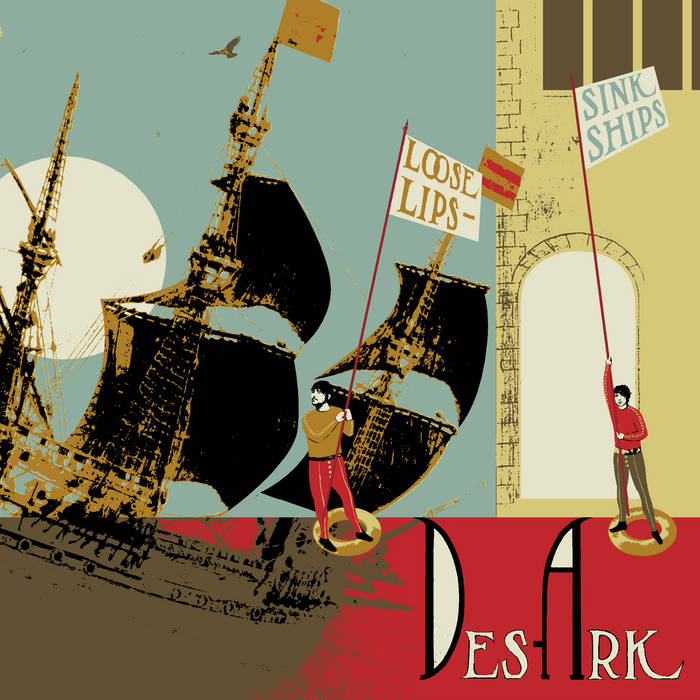 Released: Mar 08th, 2005 Format: CD
Tracklisting
Some Are Love
No More Fighting Cats, OK?
Queen Of The Sketch Patrol
Yes Sir, Yes Way
It's A Hard World Sometimes For Little Things
Jesus Loves You (But Yr Still Coming Home With Me Tonight)
Send Jolley To Raleigh
For Rob Riecke
RELEASE INFO
The original press release for this one read:
"After the release of several well received singles, compilation track submissions, and a critically acclaimed EP, this Durham, NC duo bless the universe with the release of their debut full length album. With the J Mascis/Zeno Gill (Dinosaur Jr/Pox World Empire) recorded "Loose Lips Sink Ships", Des Ark delivers the intimidating sexual energy of PJ Harvey, the power of Shellac, and the song writing ability of Blonde Redhead. Comprised of Tim Herzog (Milemarker/Cursor/Jade Tree Records) on drums and Aimee Argote (Rubeo/Mr. Lady Records) on guitar/vocals, Des Ark is not a background music kind of band. Des Ark is a "Holy shit! This is crushingly sexy, intense, and intelligent!" kind of band."
I first saw Des Ark at the Cat's Cradle in Carrboro NC. I think they were opening for Blonde Redhead. A skinny, hairy drummer and a petite woman with an electric guitar set up on stage, said hello, and proceeded to make a legendary venue with an 800 person capacity feel like a punk house living room. They were powerful, complex, catchy, and overwhelmingly engaging. These are my favorite songs they have recorded to date. Today's date is 10/12/2012.
Music
Video
No videos for this release