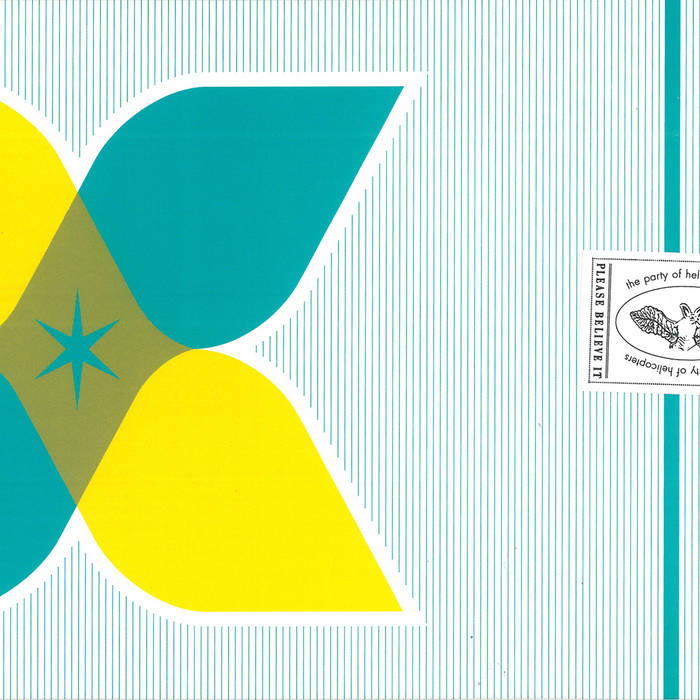 Artist / Band By The Party Of Helicopters
Released: Mar 01st, 2003 Format: LP
Tracklisting
The Good Punk
Mic My Mind
Cover Me
Delta '88
The Toucher
Rising Up Is Hard Work (Let's Just Sit Here)
Brutal Enigma
Never Ending Cycle
Boston
Science Reasons
RELEASE INFO
Here's an excerpt from the original press release for this record:
Please Believe It propels the PoH even further into chaos. The album opener "The Good Punk" starts with Dennis stating "this ain't punk rock enough for my ears" then proceeds to churn through the next six (!!) minutes dissecting the musical ethics of the new American indie rocker. Cerebral! "Cover Me" (track 3) is a traffic stopper – tornado riffs corkscrew ceaselessly, upending the melody line and filling the song with furious momentum propelled even further forward (and laterally) by Corey Race's impossibly "keeps you guessing" drumming It's like Yngwie Malmstein trying to play along to Big Black, all of heavy metal's guilty pleasures battling Dischord's punk rock puritanism. Even when the PoH tries to play it relatively straight, as they do in the aching pop song "Neverending Cycle" (track 8) the edges are serrated and the tempo is bratty and fitful. "The Toucher" (track 5) is an extremely angular ditty about mustaches with a chorus featuring some wickedly fucked up fuzz bass by "bass guitarist" Ryan Brannon.
If you've got to file this anywhere, file it with your SST Records, right between Double Nickels on the Dime and You're Living All Over Me. They are not the sound of yesterday, nor are they a spit-shined nostalgia act or a by-the-book exercise in genre. the PoH are pioneering their own niche. It's called JesusFuckingChrist,TheseGuysRock-Core.
Music
Video
No videos for this release